kitten
We have occasionally Serva and Caracall kitten or other cats.
At delivery, the animals are integrated into the family and thus tame and friendly like a house cat or a dog. The handover to the new family is usually between the 8th and 12th week of life. With delivery, the animals are wormed, chipped, with a health pass equipped, possibly 1-2x vaccinated (depending upon the transfer age), house-trained and of course free of vermin. The move to 'just' meat is then made as well.
Right conditions provided a smooth transfer to a new family at that age is very well possible. Please inform yourself by Contact page, email (info @ servalkatze.de) or by phone (0049 6044 951393).
---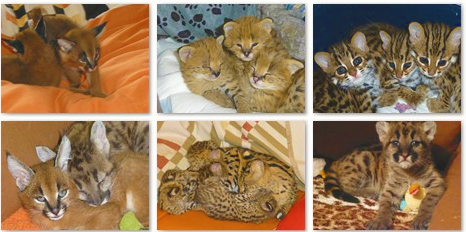 picture gallery

Copyright © 2011 Servalkatze.de